Your Supply Chain Managed. Quality Guaranteed.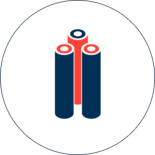 Our sampling process ensures the only surprises you'll encounter are pleasant ones.
There's nothing worse than receiving your final product after months of production, only to find the materials used don't meet your exacting specifications. Unlike other sourcing providers, we employ a full sampling approval process to ensure your product meets your precise requirements and is fit for use before full production begins.
Tooling Approval Samples: A run of the tool in final materials along with inspection reports and required certifications
Pre-production Approval Samples: A pre-production run using final materials, including "retail-ready" packaging samples, if required (based on available design specifications)
This sampling approval process sets us apart from others in our industry and further underscores our quality promise to deliver your product to your complete satisfaction.
Our 3-D prototypes let you market concepts and test feasibility.
We've helped hundreds of inventors move their ideas into concepts.
We'll provide a smooth path with no hidden fees or costs.
Contact us today to get started.
From simple to complex products, you can relax knowing your manufacturing requirements are handled by UGS.